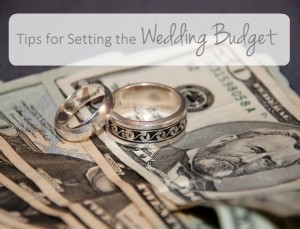 Before you start calling caterers or picking a venue, it is important to set a wedding budget. Weddings aren't cheap, but the costs can be managed if you plan ahead. Not setting a budget could leave you paying more than intended for the wedding or worse, having to skip on something you really want because too much money was spent elsewhere.
---
Take a Look at Your Financial Situation
---
Who is handling the majority of the wedding costs? If you and your soon-to-be spouse will be handling the bulk of it, you will need to sit down and figure out how you both will contribute – without draining your savings or touching your retirement fund. Starting your marriage in debt is never a good idea. So, be upfront and honest about how much each of you want to spend.
If family is helping out, you need to get figures from them too. Don't be shy about asking for how much they are willing to pay – you need the number to create an accurate budget.
Once you have a total that you and others are willing to contribute, you're ready to start planning out how those funds will be used.
---
Make a List of What is Important
---
You can't plan out where the funds will go until you know what you want to spend it on. There are a lot of essentials in a wedding and a lot of extras that aren't necessary. You and your significant other must first sit down and decide what you want at your wedding. For example, do you want a fancy venue or do you plan on doing the wedding outside? Do you want to buy the tuxedo or rent?
Most brides and grooms spend the bulk of their wedding budget on:
Venue
Catering
Wedding Cake
Wedding Dress
Flowers (including Bridal Bouquet)
Invitations
Wedding Bands
Wedding Photography and Videography
Make a list of what is important for you to have at the wedding and then make a list of the items that would be nice, but aren't absolutely necessary. Keep in mind that the biggest expense will likely be your venue, rentals and catering – most couples end up spending about 50 percent of their wedding budget here. The second highest expense is usually photography and video, then jewellery.
---
Create a Realistic Guest List
---
You can't get quotes until you know your guest count. So you will need to determine your tentative guest list and get a count of how many are likely to come. Be realistic. While it might be nice to invite everyone you know, do you really want to pay for 400 or more people at your wedding?
Your guest list will dictate how big of a venue you need, how much food your caterers need to bring, and the cost of thank you gifts as well as invitations. So, while it would be nice to invite all of your neighbours, you might want to think twice before doing so.
---
Do Some Research
---
Now that you have a list of your wedding must-haves and a guest count, it is time to start researching suppliers in your area and get some quotes. Start with the venues you are interested in and get quotes based on the size of your wedding and date.
Call all of the suppliers you need to complete your wedding – that includes flowers, jewellers for wedding bands, etc. Find out the security deposit required to hold the date too – because you'll need this amount to book your wedding. 
---
Tally It All Up
---
Make a list of categories (i.e. photography, dress, venue, catering, etc.) and the prices you received from suppliers. Then, add everything up to come to your estimated total. If the total is too high, see where you can cut. For example, some brides find that real flowers are too costly, so they opt for silk flowers or use other natural decorations and skip flowers altogether.
Once you have an established budget you can start the wedding planning. It is important to set limits on how much you want to spend in each category – such as no more than 200 for invitations or no more than 2,000 for your dress. Just by planning ahead you're already on your way to one amazing, stress-free wedding