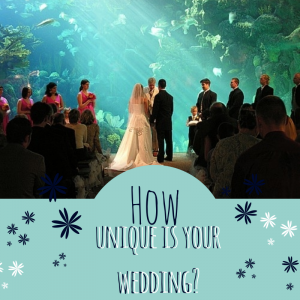 You're unique. You have your own personality, style and so does your soon-to-be Spouse. So, why would you go generic with your wedding theme? Your wedding is your day, and you can flaunt your own unique style by going with something a little more out of the box. Out-of-the-box wedding themes are becoming popular and for good reason: they're something other than the norm.
If you are thinking of doing something a little different for your wedding, use these five out-of-the-box wedding theme ideas as a starting point to creating something truly unique.
---
Carnival Fun
---
Who doesn't like a carnival? They're colourful, packed full of fun, and affordable to incorporate into the wedding. If you are going for the carnival theme, you'll have a lot of bright colours — including the classic red and white stripes. You can go with a traditional carnival theme or opt for something more vintage. Keep the food fare similar to what you would find at a carnival, including cotton candy and fried foods. Setup carnival games, use pop-up tents and have some fun with the theme. You don't have to go all the way either, a carnival theme can still be elegant — when done right.
---
Rustic Barnyard
---
If chandeliers and traditional wedding scenes aren't your thing, a rustic barnyard theme could be just what you need. This is not only a more casual wedding theme, but it is affordable too. Think of hay bales, checkered-print tablecloths, chalkboard signage, and even colourful bunting around for decorations. You can host this type of wedding outdoors or inside an old barn. Finish the theme with a five-piece accordion band and some line dancing.
---
Geek Chic
---
Are you and your fiance Star Trek fans? Perhaps you met at a Final Fantasy convention? Either way, you can incorporate your love of games and sci-fi into your wedding for a truly out-of-this-world experience. From Star Wars to Lord of the Rings you have plenty of inspiration to choose from. Consider being quirky with it, like having light sabers for centerpieces or creating a woodland wedding ceremony like the Elves in Lord of the Rings. There is no wrong way to make a geek chic wedding. Whether you theme it around one movie or multiple books and films, you can make a wedding that is truly memorable.
---
Aquarium Themed Love
---
You don't have to go underwater literally to have this wedding. An aquarium wedding is closest to the real thing and keeps you and your guests dry in the process. From coral decorations to sand to beach-themed attire, it is a fun way to exchange vows. If there is a local aquarium by you, see if you can rent it out for the big day. Or, consider a glass bottomed boat on the water for the ceremony.
---
Vintage Travel
---
Think of large, faded stamps, big pieces of luggage and travel maps and you have a vintage travel wedding. Keep your colours with the classic vintage colours, including peach, sage green, ivory and purple. This type of wedding can be extremely elegant or very casual — it all depends on the venue you choose.
---
Wine Themed Wedding
---
If you and your fiance share a love of fine wine, you can incorporate that into your wedding theme. Serve wine bottles as favors and instead of a cocktail hour, do a wine tasting. Have custom napkins made up for the occasion and include the cute sayings, like "May Your Glass Always Be Half Full". Instead of a guest book, have your guests sign a wine barrel. Use deep purples, ivories and brown colours to bring everything together and stick to finger foods for the menu.
No matter what theme or direction you take with your wedding, make sure it is truly unique. A unique wedding theme speaks volumes and when it is something that is important to you and your fiance, you'll remember it for years to come.