It is every bride and groom's worse nightmare: the big day arrives and Mother Nature arrives with it. A downpour of rain is softening up the grass, making your wedding tent sag and even delaying wedding suppliers from showing up on time. When you pick your wedding day, you don't know what the weather will be like — after all, most couples plan a wedding six months to one year in advance. While you might have planned for every aspect of your wedding, how much thought did you put into a rainy day? Luckily rain doesn't have to dampen your big day — as long as you're prepared for a few rain drops come wedding day.
Always Have a Back Up Plan
Back Up Plan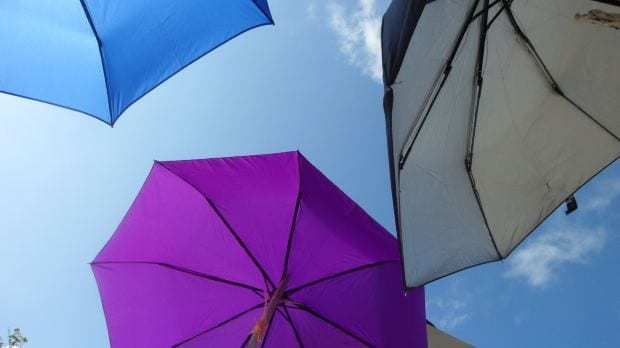 There should always be a back up plan with your wedding. It doesn't matter if you are planning for rain, snow or something else, a back up is a necessity. If you want your wedding outdoors, make sure you have tent rentals as part of the decoration. That way if it rains, you can move the ceremony inside too. Also, think about walking. If it is raining, you don't want your wedding gown to get wet or muddy as you walk from the limo to the church.
Plan for Frizz and Runny Makeup
Runny Makeup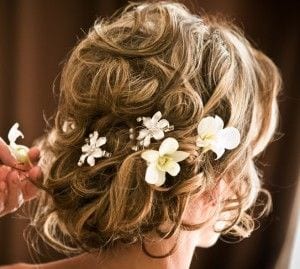 Bridal beauty is important for most women. You have spent hours getting your hair ready, makeup perfect and now it's pouring rain. To avoid any bridal beauty mishaps, talk with your stylist and makeup artist about rain-proofing your bridal look. If your hair tends to get frizzy in moist environments, you might want to consider tying your hair up instead of leaving it down. Have a pair of backup shoes too — that way as you walk you don't ruin your wedding shoes.
Trust in Your Vendors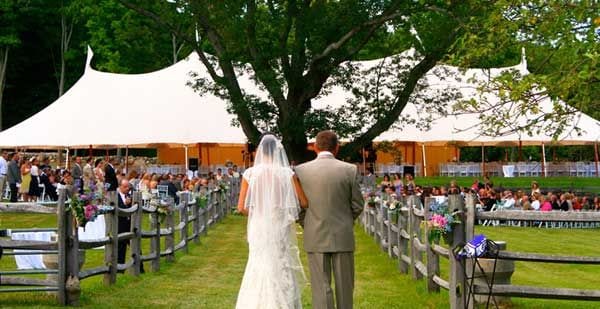 Your wedding suppliers have most likely seen it all — rain on a wedding day, heavy snow and even a hefty windstorm. They know how to handle weather, but you have to trust in their expertise. Your wedding cake decorator can help protect the cake from rain drops, your florist will rearrange flowers so that they aren't easily blown away in the wind, and your caterer can make sure everyone eats without getting soaked. Check with your tent rental company to make sure you have ordered a weather-proof tent. While most tents are equipped to handle severe weather, cheaper varieties may not be rated for heavy rain.
Your Guests Are Affected Too
Wedding Guests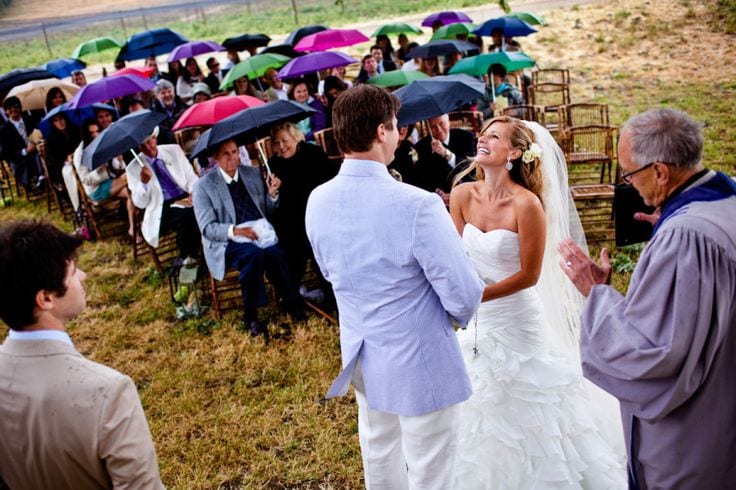 It's easy to get caught up in the fact that it's raining on your wedding day, but what about your guests? Remember rain makes it difficult for them too. Provide ushers with umbrellas so that they can help your guests from their cars to the ceremony without getting soaked. Bring in a lot of towels so guests can dry off at the door — and not track water and mud through your ceremony or reception. Talk to the venue about setting up temporary walkways from parking to the reception area so that guests don't get soaked.
Embrace the Rain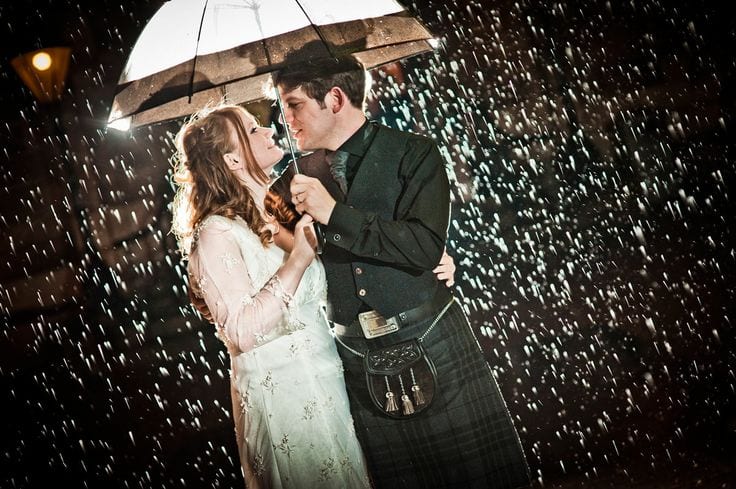 Rain isn't all that bad for a wedding. In fact, a little rain could make for a beautiful backdrop in your wedding photos. Have your wedding party pose with umbrellas — you might be surprised how cute it will actually turn out. Talk to your photographer about how you can pose and photograph without the rain making everything look soggy.
Just keep everything in perspective and enjoy the day — regardless if you have a little rain. You have spent a lot of time planning out the perfect wedding. There is no need to let a few drops ruin the entire experience.