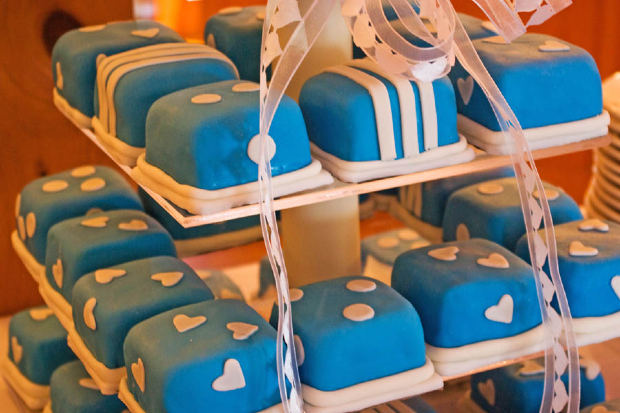 Wedding favors are a must-have. They're your way of thanking your guests for coming, providing gifts and supporting your wedding. But, most wedding favors get thrown in the bin or left on aside somewhere and soon forgotten. While you might think they're unique, they're often things your guests can't use. Today more brides are catching on and using edible wedding favors instead. That way your guests can eat them and enjoy them — and you don't have to worry about your "thank you" gift becoming a dust collector.
Below we give you 8 of the most creative ideas we have seen in the past 12 months at weddings.
---
Try Toffee Apples
---
Toffee apples are delicious and can be decorated to celebrate the wedding. Have your apples dipped in melted white chocolate and drizzled with milk chocolate. If you don't mind paying for it, you can have the apples decorated like bride and groom. Candy apples go over well with adult and youth guests alike — so you don't have to worry about your wedding favors going to waste.
---
Give Out Mixes
---
If you are the DIY type, make some homemade mixes for your wedding favors. Using canning jars, fill them with brownie, cake or cookie mixes. Then label them with a custom note and top off with a bow. It's a unique, edible wedding favor your guests will enjoy. Plus, it is economical — and could save you hundreds.


Give Out Cake Balls
Most guests never eat the wedding cake. Not because they don't want to, but because they're stuffed from the meal. Send your guests home with cake balls made from the same ingredients your wedding cake is. These portable, cute-to-look-at drops of cake will certainly be appreciated. And, your wedding cake decorator can often do these at a discount, because they're using your cake's ingredients.
---
Try Gourmet Brownies
---
Hand out a box to each guest with a single, gourmet brownie inside. Instead of making them yourself, you can order individually-wrapped and boxed brownies online. Pick a unique flavor, such as espresso or apple or even a maple crunch and toffee brownie.
---
Tiered Sugar Cookies
---
Sugar cookies cut into small circles can be stacked like a wedding cake and decorated with royal icing for a cute, unique wedding favor. You can even have them decorated to match your wedding cake. Plus, if you are looking for a DIY wedding favor, making a batch of sugar cookies and dipping them in icing is relatively easy.
---
Personalized Chocolates
---
There are dozens of stores that offer personalized chocolates for wedding. If you order in bulk, you may even get a discount. Order them with your initials or just a "thank you" printed on the top. Because chocolate is so rich, you don't need to hand out more than two per guest.
---
Caramels
---
Hand out melt-in-your-mouth chewy caramels to your guests. You can order them online in individual wraps that have been customized to your wedding. Go for unique caramel flavors, like vanilla, sea salt, or even chili pepper to really wow your wedding guests.
---
Ice Cream is Good Too
---
Who doesn't like ice cream? Instead of handing out favors, let the guests leave with their own tub of ice cream that has been custom-labeled for your wedding.
---
Jam and Peanut Butter
---
It might be very American but If you want a cute, and semi-corny idea, go with peanut butter and jam. They're the perfect combination — just like you and your fiance — and you can order custom labels to remind wedding guests where they got them from.
Edible wedding favors are a lot more affordable and more appreciated than other types of wedding favors. Be creative and have fun picking out your edible treat. But, make sure it matches the theme of your wedding. If you're not sure what to give out, ask a few guests before the wedding to see what type of treats they would like to receive.
What other creative wedding favours have you seen out there?, send us a tweet @kimberleyandkev