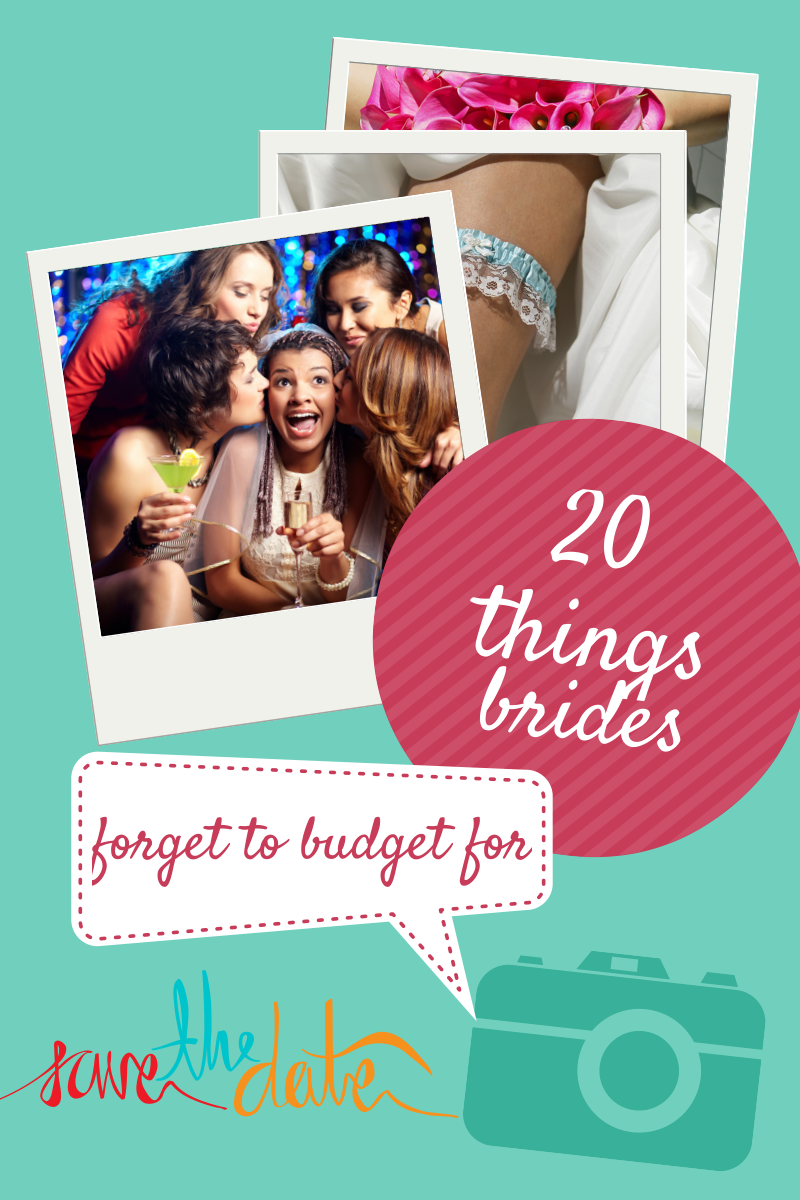 Today I'm going list crazy, over the past few series on our wedding budget Ideas we have had so much feedback in from future brides that you enjoy the quick to digest easy tips that you can scan through.
So i thought i would finish off for now our series on the wedding budget by offering 20 things that you might forget to add to your budget, if you can think of any more please get in touch by the usual social media channels, I would love to hear from you guys and I am sure so would the many summer brides.
Hope you have a fantastic day planning your wedding and here we go with the article.
So You're planning your wedding and maybe you've already made the budget. But, are you sure you accounted for everything? You would be surprised how many small expenses are forgotten during the planning process — but these small expenses can add upto hundreds of pounds later on. Today I'm giving you some item you may not of thought about so that you can make sure you have an accurate wedding budget by including these 20 additional wedding expenses.
Beauty Treatments – You're going to get your nails done, perhaps have your hair coloured and cut, and you might even treat yourself to a pedicure or spray-on tan. This can add up, so don't forget to add it to the budget.

Hen Party – In some cases you might have to pitch in for the party. Discuss with the bridesmaids how much they need from you so you can account for it.

Marriage License and Fees – These aren't free. Check with your local council/venue to see how much it will cost.

Save the Date Cards – These are sent before invitations as a way to remind your guests to save the date. Most brides forget to add this cost to the budget.

Postage – You accounted for the cost of invitations and save-the-date cards, but did you include the cost to actually mail them out?

Your Hotel Room Before the Wedding – It's bad luck for the groom to see the bride before the wedding, but did you plan where you will stay? If you need a hotel room for you or the groom the night before the wedding, it needs to be added to your wedding budget.

Meals during the Planning and Day of – You'll eat at your reception, but did you budget meals during those final days as well as the day of? Most people end up eating out on the day of their wedding to hold them over, so you might want to include that cost in your budget.

Alterations – You planned the cost of your wedding dress, but what about the cost of alterations. Whether it's hemming the dress or taking it in an inch or two, that alteration may not be cheap.

Undergarments – Save room in your wedding budget for undergarments and accessories. That can include shape wear, jewelry, veil and shoes.

Pre-Wedding Outfits – You'll have many events before the wedding that you might want new clothes for, including your bridal shower, Hen party and rehearsal dinner. If you didn't already plan funds for those new dresses, now is the time to add them into your budget.

Unexpected Guests – Even though you require an RSVP, don't expect everyone to actually send it. Some caterers recommend adding 10 percent to the wedding count to account for those people who show up anyway, I wrote a blog about how many of your guests you should cater for in the evening.

Presents for Family – You have the thank you gifts, but what about gifts for bridesmaids, groomsmen or family?

Supplier Meals – While it isn't required, it is a kind gesture to feed your wedding suppliers (including your DJ, photographer, florist, etc.). So add those to your catering bill.

Lighting – Adding lights to your reception can really complete the ambiance, but it isn't cheap. For some venues, adding lights can cost up to £1,000.

Tips – You have many suppliers working hard to pull off your wedding, and it is a very nice gesture to give them a small tip. That includes tipping your caterer, wedding cake decorator, DJ and even the photographer. So add those into the budget too if you decide to do that.

VAT – Some suppliers don't calculate tax into their quotes, but you need to include that in your budget.

Overtime Fees – If for some reason your wedding party goes past the allotted time, suppliers may charge an overtime fee. While you might not expect it, still budget some funds for overtime fees just in case. Ask your suppliers if they charge (We don't)

Wedding Favors – Wedding favors can cost you up to £10 per person. Start shopping around early and plan ahead in your budget.

Unexpected Happenings – It's a good idea to have at least 10 to 20 percent set aside for the unknown. Perhaps it rains on your wedding day, forcing you to put up tents last minute. Or, the DJ cancels and you have to hire someone else with a rush free

.

Travel Costs – You may have to pay to fly in your bridesmaids, the groom's parents, etc. See who needs help paying for their travel costs and start working it into your budget.
What do you think of these ideas And can you think of any other suggestions?