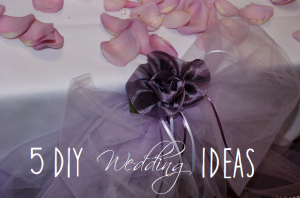 Weddings aren't cheap. In fact, the average wedding costs more than £18,000. But, there are ways you can reduce the blow to the budget — or your family's budget. Do-it-yourself projects help save costs and make you more active in the wedding process. And, you would be surprised at how easy most of these projects are — and how much they help you save. So if you are on a tight wedding budget, or you just don't want to pay full price, here are a few DIY projects you can do to help lower the cost.
---
Make Your Own Invitations
---
Wedding invitations are outrageously over-priced, but it is because you are paying for the convenience. You can make your own wedding invitations at home for 50 to 75 percent less than the retail price. That's a significant savings! DIY wedding invitation kits are found in most craft and hobby stores, but you can also purchase them online. If you want to save even more, buy a fancy cardstock paper from your local craft store, then download a fancy, free calligraphy font online. Follow templates for wedding invitations (there are hundreds on the web to choose from) and create your own. Then, print them out, label them and mail them.
---
Do the Flowers Yourself
---
Hiring a florist means you're paying for their retail markups on the flowers as well as their service to arrange and deliver the flowers. Flower arrangements aren't difficult, especially with the tutorials online. But, you can save even more by swapping real flowers for silk flowers — or even better, removing flowers from the wedding altogether. More money-conscious brides are opting for no flowers at all — and some are making paper flower arrangements.
---
DIY the Thank You Gifts
---
Buying "thank you" gifts for your guests is just part of the wedding game, but it doesn't have to be. While you still need to provide a gift or some form of "thank you" to your guests, you don't have to pay over the odds for it. Make your own gifts, even if that means baking up cookies and putting them in individual bags for your guests. Some other homemade thank you gifts you could make include:
Homemade Granola
Bags of Candy
Bottles of Pop with Your Own Labels (Printed at Home)
Handing Out Bags of chocolates
Hot Chocolate Kits
Hot Tea Kits
---
Create Your Own Centerpieces
---
Centerpieces add a little flare and are one of the easiest decorations, but these come with a high price tag if you buy them. Skip doing flower centerpieces and go for something simpler. A tray with different sized candles is still elegant and affordable. Adding a bottle of champagne and champagne flutes on a tray also is a simple, affordable centerpiece idea. Some couples opt for balloons, bowls of treats, or even paper flowers.
---
Make Your Own Decorations
---
Wedding decorations are where couples spend about 20 percent of their wedding budget. For your wedding, it is all about creating the right ambiance. Some popular DIY wedding decorations include:
Creating tissue paper flowers. Use these to decorate around the reception or even add them to your centerpieces.
Using tulle to tie bows on the back of reception and ceremony chairs. A roll of tulle will cost you a few pounds, while hiring someone to add these decorations for you will cost a few hundred pounds.
Using tulle to create dramatic draping inside the reception hall. You can also use tulle to create drapes between pews, at entryways and to swag around tables.
Using strands of light to add an elegant touch to entryways, tables and outdoor receptions.