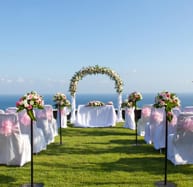 There is nothing better than planning a summer wedding, especially with the summer we have had so far. From picturing yourself reciting your vows looking over the coast to just having an outdoor spread, who doesn't love summer weddings? Unfortunately that special day can be a real blunder when your guests are drenched in sweat and suffering from sunburns. So, if you're planning a summer wedding, make sure you take precautions to beat the heat.
Keep Everyone Hydrated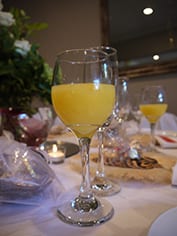 Don't expect your guests to sit in the heat without water. While it's a luxury for indoor or winter weddings to have beverage stations before, during and after the ceremony, it is a necessity for summer weddings. Make sure you have an assortment of water, lemonades or even infused waters so that your guests stay hydrated. If you're worried about a beverage station ruining the feel of your ceremony, keep it out of sight or decorate it to match your décor.
Offer Summer-Friendly Wedding Favours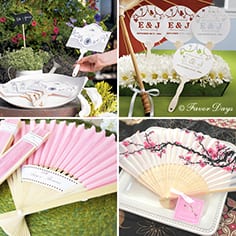 Sure, you can hand out favours at the end of the wedding, but for a summer wedding, hand them out before. Use summer-friendly favours like a hand-held fan, basic sunglasses, or even sunscreen. Your guests can start using their wedding favours right away too — which will make them even more appreciated.
Take Care of Bugs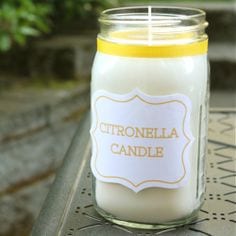 Bugs are a nuisance not only while serving food, but during the ceremony. Keep your guests from becoming a bug's next meal by talking to the venue about your options. Some venues have organic, non-toxic pesticides they can spray before your ceremony to keep away pests. If you're serving food outside, make sure the caterer takes extra precautions to protect the food (including your wedding cake) from bugs. You may need to strategically place citronella candles around the reception area — but don't worry, these can easily be decorated to match the decor.
Remember People Have Allergies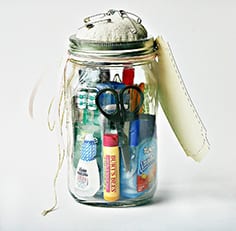 Allergies can be in full swing come summer time. Make sure you take precautions with allergy medications and keep the runny nose and watery eyes out of your wedding pictures. Consider having a table with an "allergy kit" for those guests who suffer from allergies too. That way the only tears shed on your special day are emotional.
Remind Guests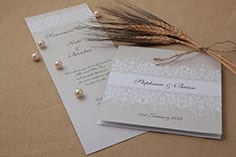 You might mention in the invitation that the wedding is outdoors, but don't assume your guests will remember that. A few weeks before the wedding, send out reminders to guests letting them know they will be outside for an extended period of time. Consider telling them to wear lighter attire or put on sunscreen. Have at least one covered area where elderly or small children attendees can escape the heat and direct sunlight too.
Readers: What tips do you have for beating the heat?